Ever wondered what's involved in securing Angus beef genetics? We recently chatted to Christian Duff, Strategic Projects Manager at Angus Australia about a program that does just that.

The Angus Sire Benchmarking Program (ASBP), an integral part of the knowledge bank of our industry, brings insight and understanding to Angus genetics. And according to the Angus Australia website, its objectives are to:
Generate progeny test data on modern Angus bulls, particularly for hard to measure traits such as feed efficiency, abattoir carcase measurement, meat quality attributes and female reproduction.
Generate data for the validation & refinement of Angus BREEDPLAN.
Build a comprehensive phenotype and genotype database on Australian Angus for genomic technology validation, research and development.
Building a reputation around marbled beef products has taken years of dedication and hard work, of course, but another important part of the Rangers Valley story is our involvement in the Angus Sire Benchmarking Program.

What does this program mean to eaters of Angus?
It involves measuring beef quality attributes like marbling and, more recently, nutritional factors such as iron and zinc content, plus its fatty acid profile – including omega 3. The long-term aim is to breed Angus beef naturally that excels in eating experience and offers additional nutritional value for the consumer.
Christian tells us "The ASBP also has a focus on several welfare and sustainability related traits such as calving ease, temperament, feed efficiency and animal resilience through strong immune systems."
Christian Duff has been managing the ASBP for over three years and in that time, along with colleague Nick Butcher, he's watched the program improve animal welfare, productivity and profitability of Angus cattle and the whole beef supply chain. This is achieved for a range of commercially important traits including calving ease, temperament, live weight, heifer fertility, feed efficiency, carcase weight, retail beef yield and marble score.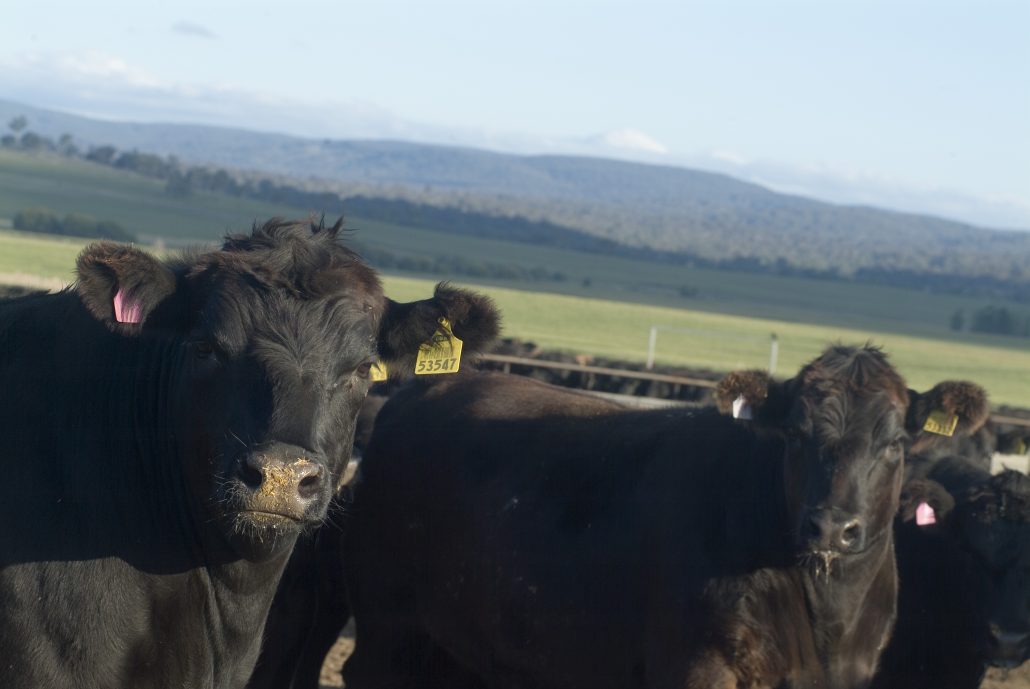 Of Rangers Valley involvement in the ASBP, Christian says, "Rangers Valley have been, and continue to be, a valued partner in the program since its inception in 2010. Their role is critical to the core function and objectives of the ASBP. They facilitate the collection of high quality performance information on steer progeny from known sires in large contemporary groups, from conception through to processing.
Project steers are purchased as feeders by Rangers Valley from co-operator herds. They then spend around 100 days in Tullimba Research Feedlot for individual animal feed intake testing before relocating to Rangers Valley feedlot to complete a 270-day feeding program. Cattle are then processed and graded to become the premium Black Onyx and Black Market cuts used by chefs around the world.
Importantly, the long fed program allows the full variation in carcase traits such as marbling, carcase weight and eye muscle area to be measured and documented for future insights."
On a day to day basis, the program co-ordinates organisations and people to garner knowledge from documented testing like AI (Artificial Insemination), pregnancy testing, carcase scanning and structural assessment. Like so many natural products, this is seasonal activity.
We asked Christian where he sees the future of the ASBP and the Angus breed in Australia.
"The program is likely to include 300 Angus sires with 4000 steer and 4000 heifer progeny in the near future and it's important that it continues to build this reference population now and into the future. Particularly in the area of genomics (DNA) where this information helps predict breeding values for hard to measures traits like marble score, or feed efficiency.
One very important objective of the ASBP is the collection of DNA samples on sires and progeny for the development of genomic based tools and enhanced breeding values. Angus will continue to be bred naturally, however it's this cutting-edge research and development that will allow a selection of genetically superior animals to develop with more accuracy, particularly at a young age."
A significant part of the success of our beef is its genetic heritage – we grow as pure as possible Black Angus because these cattle produce the meat quality our customers demand. It's programs like ASBP that have allowed the Angus breed to continually improve its ability to produce high quality, premium beef. And by actively supporting a program like ASBP, we know there's an exciting future for the breed and the industry. In part, it's a quality commitment we make to the people who buy, cook and eat our meat. And further, it's a commitment to maintaining and improving the breed for the benefit of all.
https://www.rangersvalley.com.au/wp-content/uploads/2013/02/rvLogo.png
0
0
Rangers Valley
https://www.rangersvalley.com.au/wp-content/uploads/2013/02/rvLogo.png
Rangers Valley
2017-09-12 10:24:12
2019-08-07 03:23:30
How do we know it's Angus?