The evolution of Wagyu has arrived.
We're proud to introduce our new Wagyu cross brand, WX. It's the same Rangers Valley Wagyu cross that you know and love, but the name and the brand has changed forever.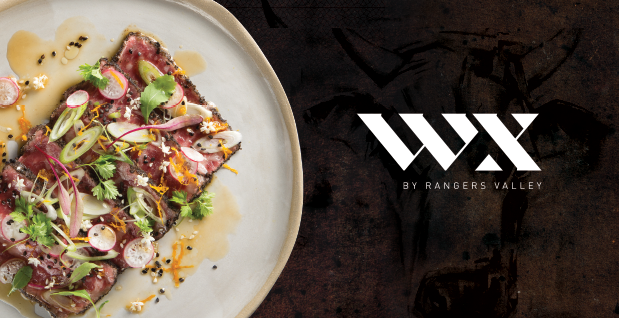 WX by Rangers Valley is Wagyu, cross bred with the very best genetics to create something new and unique to a market looking for something rare and exclusive.
It's a cross breed Wagyu like no other. It's a deliberate and artful cross breeding – a lineage nexus where one great ancient breed meets another to create a flavour, performance and undeniable quality that's impossible to define.
With melt in the mouth flavour, texture and that mystifying umami, WX by Rangers Valley brings an eating quality unlike other beef. Known for its intelligent cross breeding, resultant marble score and relentlessly buttery mouthfeel, WX is used by Chefs all over the world with exciting results.
So why is it so special? We ensure each of our Wagyu cross animals is kept to specifications. Parentage is 100% Wagyu sire with a dam chosen from a range of breeds for her genetic superiority, environmental adaptability and ancestral marbling; rather than breed alone. Our breeding partners work with nature to deliberately and artfully choose from the best available animal resulting in offspring that are hand chosen, unique and highly prized.
WX by Rangers Valley is categorised by marble score with the range including WX, WX5+, WX7+ and the elite WX9, so there's a marbling score to suit any dish you dare to create. The kitchen is a place of discovery and invention – and this beef will humbly deliver.
Quick Facts:
• Wagyu cross
• 360 days on feed
• HGP free
• 100% Wagyu Sire
• Range: WX, WX5+, WX7+, WX9
With our marbling scores graded under the strictest guidelines by industry body Aus-Meat, we're confident WX by Rangers Valley will meet your every expectation.
For more information or to download the WX by Rangers Valley brochure, go to www.wxbyrangersvalley.com.au.
https://www.rangersvalley.com.au/wp-content/uploads/2013/02/rvLogo.png
0
0
Rangers Valley
https://www.rangersvalley.com.au/wp-content/uploads/2013/02/rvLogo.png
Rangers Valley
2017-03-06 06:22:38
2017-03-06 06:22:38
Introducing WX by Rangers Valley