EU TRIP-THE EVENT
It's not everyday you get asked to pack a bag for an exclusive event in Monaco, but just two weeks ago, that's exactly what our Marketing Manager, Andrew Moore did.
In March this year, our EU partners, Giraudi had their 50th anniversary, and as part of the celebration, their top eight beef suppliers from around the world were asked to join them to showcase their finest striploin to a hungry crowd of high-end European restaurateurs.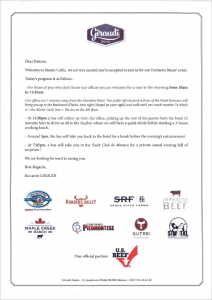 Giraudi supply only high-quality meats across Europe. The company began 50 years ago with Ermine Giraudi and is carried on by his son Riccardo today.
The esteemed company we're keeping as one of the select Giraudi beef suppliers from around the world isn't lost on us. So, being asked to the event itself was a pretty proud moment indeed.
Held at The Beef Bar, one of Giraudi's own restaurants, the event was a true showcase of each high-end beef producer. All suppliers were demonstrated to the audience through their striploin. Restaurant chefs prepared each one in the same way, which meant diners were able to taste the subtle differences in texture and flavour across the range with a consistency that's rarely afforded at such an event. When you're dealing with beef at the top of its game, as this tasting was, it's not a matter of better or worse, it's more of an experience in terroir.
Click on images to enlarge.
EU TRIP-THE ATHENS BUTCHER SHOP
Of course, Andrew didn't want to go half way across the world without a visit to one of our favourite European butcher shops-Drakoulis Meat. This shop is legendary around Athens as a place to be experienced, not just as a place to buy meat. Stratos Drakoulis is the genius behind this Butcher/Delicatessan and he's made sure they're stocking our exclusive Black Market Beef as well as our European black Angus brand, Premium Marble Reserve. If you haven't seen the video snippet that Andrew took while he was there, visit our Facebook page and make sure you turn up the sound!
Click here to see the Drakoulis Meat video on our Facebook page.
It was definitely a whirlwind week and we're sure that between gelato, pasta and Monte Carlo parties, Andrew's jet lag will abate in time. His verdict? "Europe is an exciting, sophisticated and innovative market that we are honoured to be a part of."
https://www.rangersvalley.com.au/wp-content/uploads/2013/02/rvLogo.png
0
0
Rangers Valley
https://www.rangersvalley.com.au/wp-content/uploads/2013/02/rvLogo.png
Rangers Valley
2016-03-30 08:12:01
2016-03-31 05:34:21
Rangers Valley goes to Monte Carlo!